Need to create that special effect or just get the shape of your products out there? We can help with our modern postcard printing. If you're a building company, your card might be the shape of a house, a car sales business the shape of a car – the options are endless. We would suggest that shapes are based around the size of an A5 postcard (150 x 210mm) to get the best efficiency out of the materials and hence cost. However, you can go as large as 307mm x 586mm – wow what a big postcard…
We can offer personalised postcards, either with just the data for mailing, or we can vary the image based on perhaps the last car the person bought from you with colour, type and even registration number.
We can also create bespoke business cards for you, so you can stand out from the competition – critical to any company's success nowadays! Our excellent business card printing can create you the business card you require! We offer standard business card dimensions (85x55mm). You can find our business card template here. Start the relationship with your future clients with the best first impression with our outstanding business cards!
Clearly the more cards you do, the more cost effective it becomes, so from 1 to thousands can be catered for. All materials are from FSC managed source and any laminated used are ECO friendly – so you get the benefit of exceptional quality in the knowledge you are doing your bit for the environment.
Postcards are normally printed on 350gsm silk, of high bulk and then printed digitally, so you can order the exact quantity you need. Our digital printing service gives you the opportunity to even create personalised postcards! Our personalised prints include bespoke sizes, A5, DL and A6 amongst the range. Please have a look into our general postcard templates for mailing postcards in A5, A6 and DL sizes.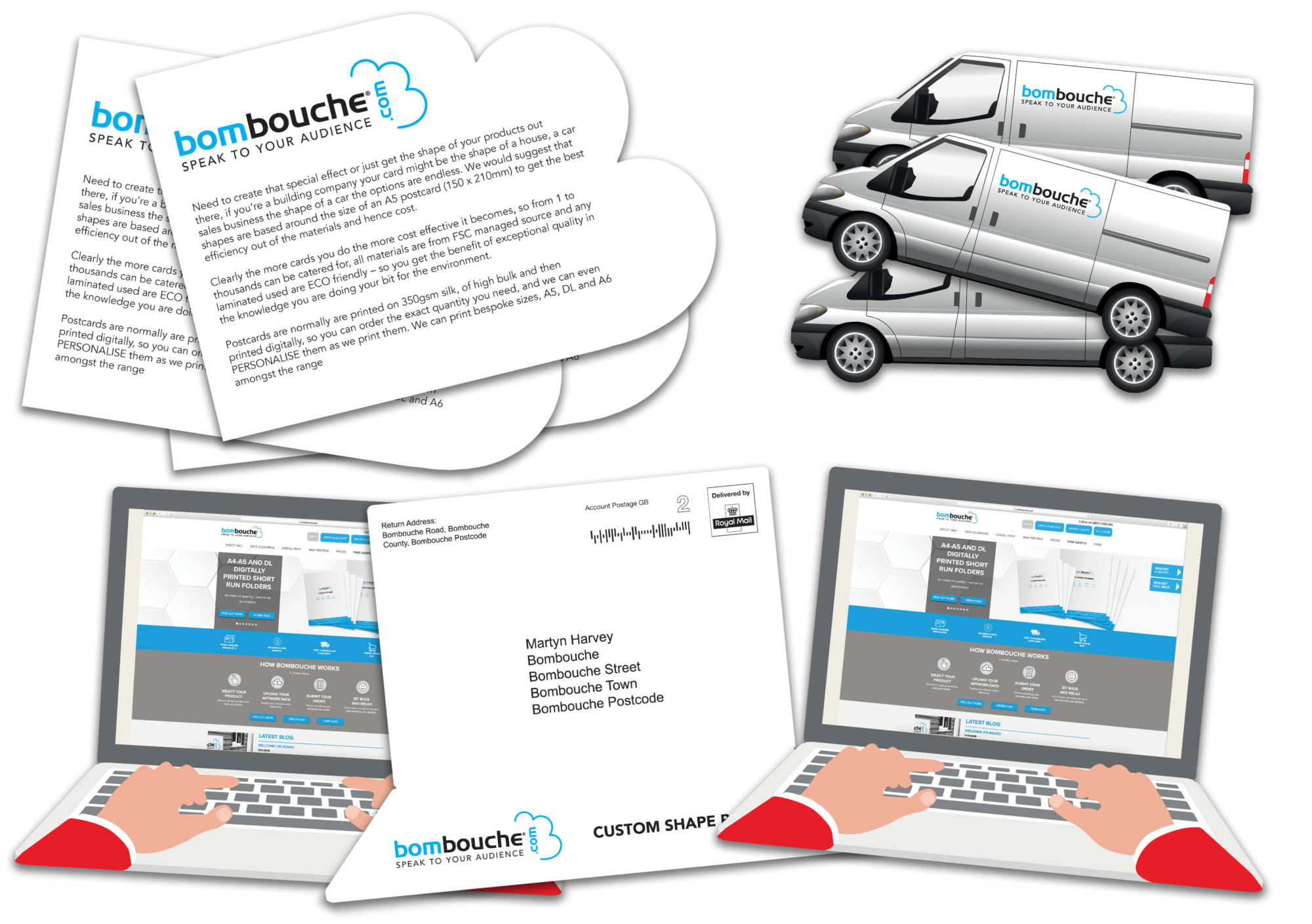 You can find more of our templates here to help you ensure your artwork meets the correct specifications for your mailing.
Please do contact us for further information, shortly these products will be able to be ordered online – in the meantime please do not hesitate to contact one of the team at sales@bombouche.com or email our Managing Director at md@bombouche.com or call the office on 0800 1300 964 for further information.